Celt Islam Sufi Dub Soundsystem loop package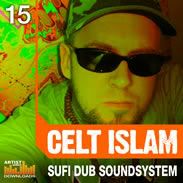 Celt-Islam uses a fusion of music from Dub/Electro/Drum and Bass and collaborates it with Islamic/world grooves to create a unique and mighty Dub driven dance crossover sound. Celt Islam creates music in quite a diverse range of styles and genres. He produces Sufi inspired Global Grooves to create a sometimes Meditative Dub that transfixes everybody who comes across it, to Electro-Dub driven Drum and Bass to satisfy the dance world.
The Celt Islam Sufi Sample Loop package features the vocal talents of Bongo Chilli and Danman both of which are established artists from Jamaica now living in UK. Also, featured on the loop package is live percussion from Inder Goldfinger and Abdal Wahid Mursaleen both experts in Ethnic and oriental musicial instruments and provide some original loops made from Tabla and Dholak plus some rare recordings of Sitar loops by Dawoud Kringle aka The Renegade Sufi and Saz played by Sufi artist Mustafa Daood.
If you are a producer looking for a genuinely rich collection of deep and dubby sounds from around the world, mixed with the dancefloor in mind whilst also being versatile, inspirational and musical enough to work in genres from Dub, Electro, Downtempo, Drum and Bass, Dubstep and Tribal House – you need to sample the exquisite grooves, sounds and samples of the master of World Dub – Celt Islam.
Within this exotic collection of royalty free samples from Loopmasters you can expect to find over 450MB material, including 29 Deep and Dubby Basslines, 33 Breaks, 31 Ethnic Drum and Percussion Loops, 22 Deep FX Samples, 64 Rich Music Loops including Dub Pianos, Sitar Loops, Tumbis Kemun Synths and Pads, plus 23 Authentic Sufi Vocal Loops.
If you are looking for a fresh collection of sounds from one of the leading lights of the World Fusion Dub scene, to infuse into your productions – check out this inspiration pack today and sample Celt Islam – Sufi Dub Soundsystem.
http://www.loopmasters.com/product/deta ... und_System

Computer Music Review Of Celt Islam - Sufi Dub
Celt Islam introduces the Sufi dub sound to the sample library market. This collection of over 360 loops fuses authentic dub reggae with modern world music, with a distinct UK underground dance twist. The result is an exciting hybrid, ripe with creative possibility. Expect live ethnic flavours alongside the freshest of dirty sub bass synths and glitched up Jamaican vocal snatches. Depsite borrowing so much from the past, it comes together as something very contemporary and inspiring. Producers of breaks, dubstep, drum 'n' bass, etc, should definitely check it out.