Introduction
These pages are dedicated to all makers of Dub and Dub influenced music. All of these genres have in common that music production is not confined to the reproduction of a live situation. Effects and studio trickery are seen as an integral part of the music.
The sound engineer has evolved from "the guy who sets up the microphones and presses the record button" to a recording artist, controlling and shaping all aspects of the music. Every producer develops his/her own tricks and techniques to obtain a personal sound, using the possibilities of the equipment given. Quite often limitations of the equipment are the source of new ideas or improvisations leading to a fresh new sound.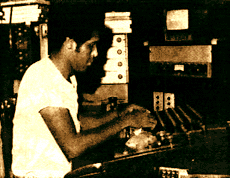 Some producers are known to keep their techniques for themselves because they fear the imitators. In my opinion this is pointless as the real innovative mind will always be a step ahead of the copycats.

Now, these pages are intended to be a forum for all producers who would like to share their own ideas and be inspired by what others do in their dub laboratories. I started this project back in 1998, at the beginning just describing what I do myself and what friends already told me. Since then dozens of recording artists around the world have contributed their favourite techniques thus making this site a quite unique place on the web. To participate just send a message with your additions. If you wish so I'll also install a link to your site right below your paragraph.
For newbies much of the content in the Dub Scrolls may seem as confusing as the Dead Sea Scrolls. Therefore I added a basics page which explains how a traditional dub is recorded in 6 steps.
Japanese readers may prefer to read this japanese translation of the dub scrolls by Junya.
So, Nuff blah blah for now, better let's get started!
yours, THE INTERRUPTOR